This is a hand-picked listing of the best WordPress photo gallery themes. Gallery themes are those WordPress themes which are exclusively designed for showcasing photographs in categorised albums, usually in the grid layout. The photos and its careful arrangement form the integral design of a gallery WordPress theme.
Photo Gallery WordPress Themes are best suited for those photographers who want to make their website with an exclusive focus on their photography collection. It is often used by famous professional photographers to show their work in a minimal layout. It is also popular among hobbyist photographers who want an alternative to Instagram, Flickr and other social media sites.
Gallery themes are one of the easiest ways to get your photography website up and running, as all you need to do is upload photos into a predetermined layout. However, most gallery themes would require you to install third party WordPress plugins to handle the gallery functionality.
It should be noted that nearly all of the good gallery themes are premium/paid, and this is expected as thousands of developmental hours are spent in making these themes. Only some of these themes have categorised album functionality.
Best WordPress Gallery Themes
We have painstakingly gone through each of these themes and have come with this list of the best themes in this category. We will keep this list updated as new themes come along. If you know of any good gallery themes or if you have just made a new theme in this niche, then contact us and let us know. We would be happy to include your theme in this list.
All of these themes are responsive/mobile-friendly, has gallery functionality, is well optimised and follows proper design guidelines.
Foto Gallery Theme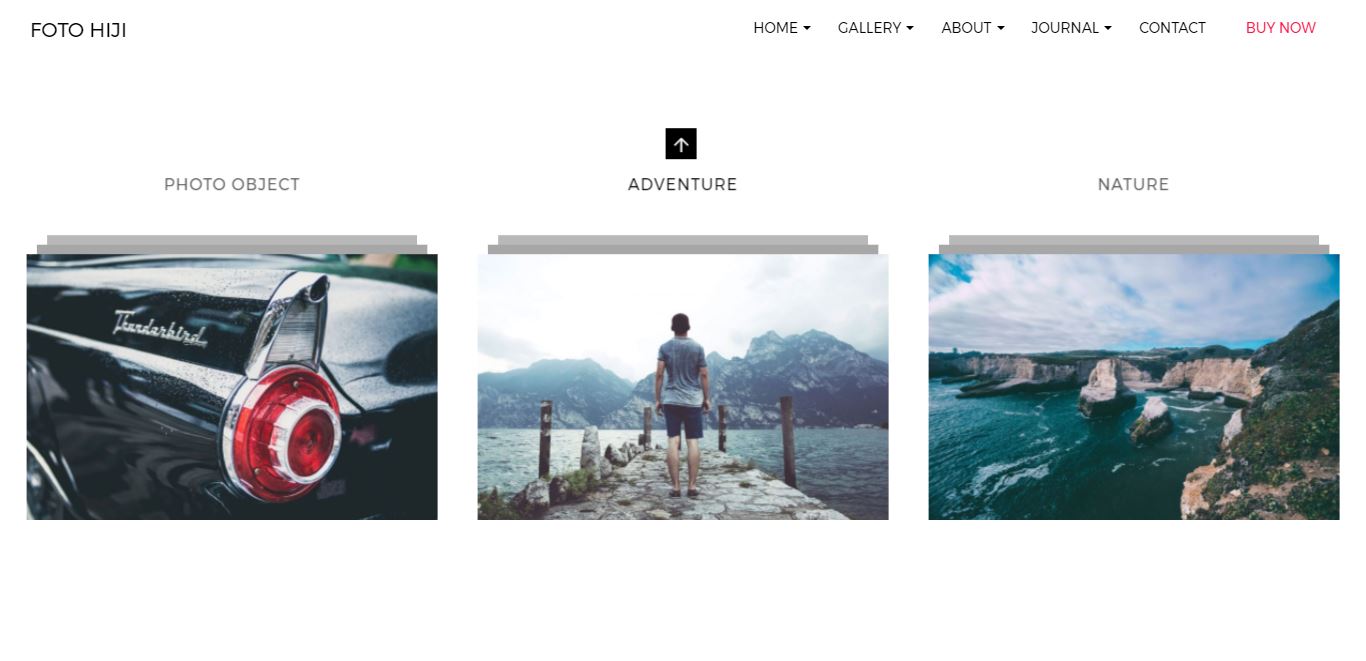 Foto is a gallery theme with a simple elegant layout which shows albums in its absolute raw form. They have different homepage designs, but it is a largely simple showcase of categorised featured images of album shown in different design layouts. Its pages are plain and minimal although it is built using HTML5 and CSS3. It is pretty fast loading and has about 30 demo designs to show all different possible layouts.
It has EXIF capability and its light box is good with zoom and title features. Its user experience isn't perfect as its navigation system is quite unusual, thus making it difficult for your visitors to go through your site.
For example, in the above screenshot, you would expect to be able to click on each of the featured images and take you to their respective galleries, but it doesn't work like that. You have to click an arrow which shows up when you hover over the images, and you have to use drag functionality of your mouse to see more galleries hidden in a horizontal layout. Nevertheless, we understand there are photographers who like such unusual approaches and it can be quite fun to be different from the crowd.
PhotoMesh Gallery Theme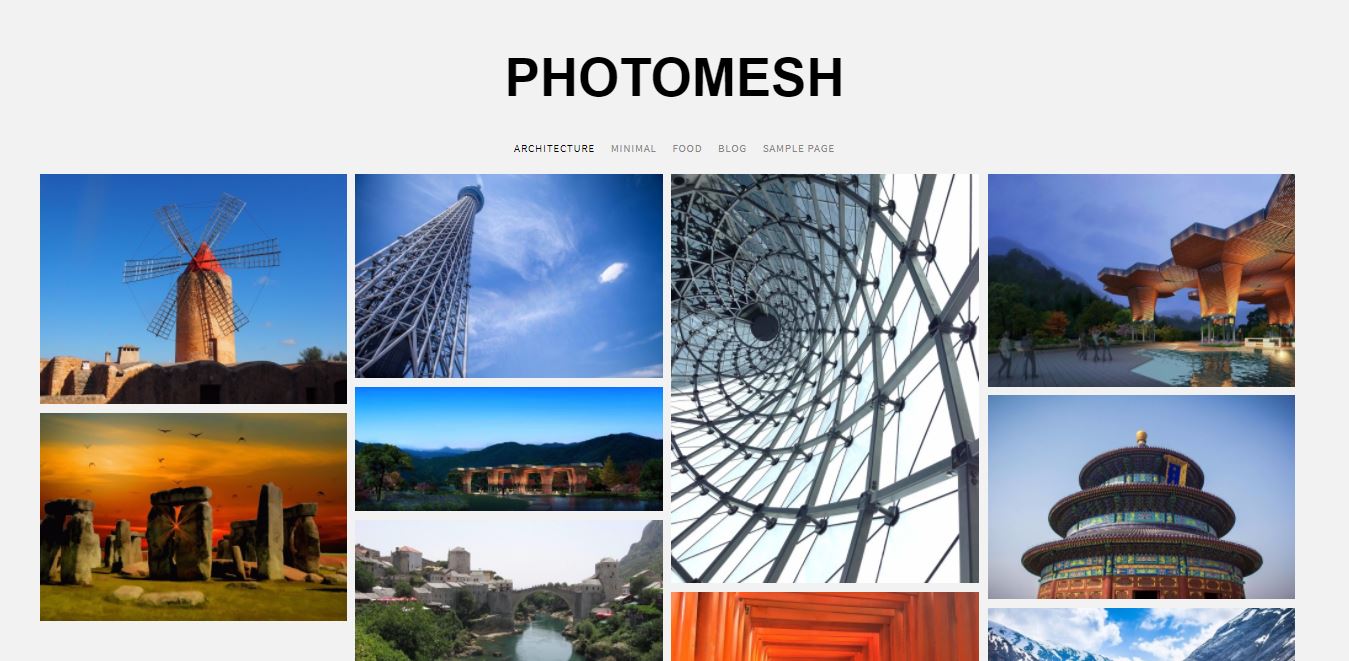 PhotoMesh is a very simple and minimal WordPress gallery theme with an incredible focus in the masonry layout. This gallery theme has a beautiful infinite scroll feature which just works perfectly. The new images are pre-loading the background as you scroll through this theme. It has a super fast lightbox which loads images before you even click the next button. This theme is designed to avoid the annoying loading icon which usually pops up in most themes.
It is a great theme for blogging as well, with beautifully designed minimal blog pages that are loaded using AJAX technology.
PhotoMesh has a bulk album uploader section in the backend through which you can upload your photos directly to the gallery. It doesn't need any third party gallery plugins, so it just works superbly out of the box! If you are looking for a super simple/minimalistic WordPress gallery theme then this is the theme to go for.
The homepage has square grid layout with the featured image of each gallery being shown. Unlike the screenshot is shown above, the name of the gallery is only shown if the mouse has hovered over it. The single album page is as awesome as the homepage with photos being shown end to end.
It comes with a backend album management system through which you can upload photos in bulk. All you need to do to get your site ready is simply create some album names and upload photos in bulk!
Moon WordPress Theme